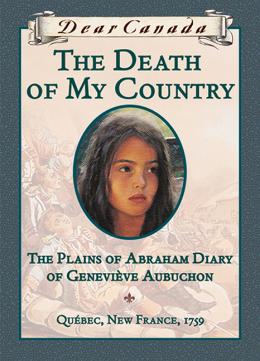 Awards
Short-listed, Geoffrey Bilson Award for Historical Fiction for Young People, 2006
Commended, Canadian Children's Book Centre, Our Choice, 2006
Dear Canada: The Death of My Country: The Plains of Abraham Diary of Genevieve Aubuchon, Quebec, New France, 1759
Scholastic Canada Ltd | ISBN 9781443119993 Ebook
216 Pages | Ages 8 to 12
The first Dear Canada featuring a First Nations diarist, The Death of My Country is set at a pivotal point in Canada's history — the war between Britain and France for control of New France.
Geneviève Aubuchon is born into an Abenaki tribe but is orphaned when another tribe destroys her village. She and her brother are taken to a convent in Québec.While Geneviève gradually adapts to her new life with the sisters, her older brother runs away to rejoin the Abenaki. Geneviève fears for his life when he joins the First Nations allies who are helping defend Québec against the British siege of the city and the attack on the Plains of Abraham.
Author Maxine Trottier frequently participates in historical re-enactments. Her hobby has provided her with an opportunity to research and experience this key time in Canada's history.