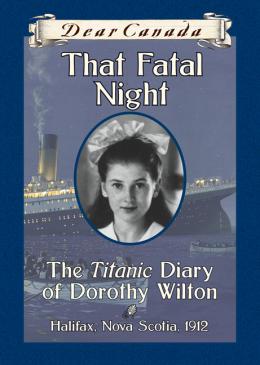 Dear Canada: That Fatal Night: The Titanic Diary of Dorothy Wilton, Halifax, Nova Scotia, 1912
Scholastic Canada Ltd | ISBN 9781443119214 Ebook
176 Pages | Ages 9 to 12
Scholastic Canada Ltd | ISBN 9780545980739 Hardcover
176 Pages | 5.58" x 7.72" | Ages 9 to 12
In the aftermath of the Titanic disaster, a young girl must come to terms with haunting memories from the voyage.
It is May 1912, one month after the horrific sinking of the Titanic, and twelve-year-old survivor Dorothy Wilton is sent home from school in disgrace when she strikes another student. Although she's expelled, her sympathetic teacher encourages Dorothy to write an account of her experience on the ship, with the hopes that it will help Dorothy come to terms with her trauma.
And so begins a truly remarkable story, which reads like a time capsule of the era: Dorothy writes about visiting her bohemian grandparents in England before setting sail back home, the luxurious rooms and cabins on board, a new friend she makes, and the intriguing people they observe. However, amidst all of this storytelling, a shadow lurks, a secret Dorothy is too traumatized to acknowledge — a secret about her own actions on that fatal night, which may have had deadly consequences.
Through young Dorothy's eyes, award-winning writer Sarah Ellis expertly takes a unique perspective on the Titanic tragedy, exploring the concept of survivor's guilt with devastating honesty.
Raves & reviews:
Praise for Dear Canada: That Fatal Night
"[A] story original, witty, playful, moving and rich with insight—wisdom, even. Dorothy's a girl with a very full mind, her observations piquant and memorable...Her sense of guilt is all the more potent for being woven so subtly into her story. Excellent fare." — The Toronto Star
"[Readers will] be likely to devour the fact-filled, fascinating historical note Ellis provides at the end of her novel, with 12 pages of archival photos." — The Montreal Gazette
"Sarah Ellis is adept at getting into the minds of young girls, especially young girls with gumption, courage, and initiative...[Dorothy is] a memorable heroine and a gutsy girl learning how to cope with the unthinkable...That Fatal Night is a really good book—definitely better than the Hollywood movie! Highly Recommended." — Canadian Review of Materials
"The Titanic is done time and time again...But you have not read the Titanic like this before...All in all, a very welcome addition to the Dear Canada family and one of Sarah Ellis' best novels." — Vikki VanSickle, author of Words That Start With B