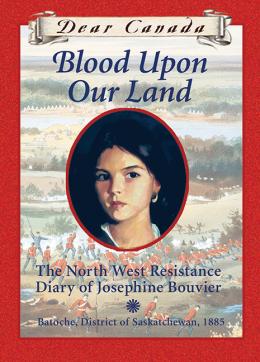 Dear Canada: Blood Upon Our Land: The North West Resistance Diary of Josephine Bouvier, Batoche, District of Saskatchewan, 1885
Scholastic Canada Ltd | ISBN 9781443124072 Ebook
224 Pages | Ages 8 to 12
A young girl watches as the Métis life she knows is threatened by conflict and the men in her family are called to action by Louis Riel, the charismatic leader of the North West Resistance.
Tension grips Batoche, Saskatchewan in 1885. Many Métis moved here after the 1870 Riel Rebellion in Manitoba left them disallusioned. But life in Batoche is difficult. The buffalo on which the Métis depended for generations have been hunted almost to extinction, and the coming of white settlers poses a threat to their traditional way of life. The Métis want title to their land, but the government has delayed for years. Promises are no longer enough . . . and talk of a second uprising is in the air.
Thirteen-year-old Josephine finds herself torn over her feelings about the Resistance: she is worried for her brother, who is eager to fight; for her father, who prefers a peaceful solution; for Edmond Swift Fox, her friend, whom she loves and will eventually marry; and for Louis Riel, the leader whose efforts to help the Métis preserve their way of life are actions she grows to respect and admire.
Through Josephine's faithful diary entries, the reader is transported into this pivotal moment in Canadian history — the time leading up to the defeat of the Métis and the allied First Nations forces at Batoche, the execution of Louis Riel, and the growing tensions between English Canada and French Canada.