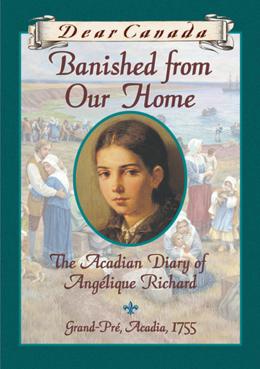 Dear Canada: Banished from Our Home: The Acadian Diary of Angelique Richard, Grande-Pre, Acadia, 1755
Scholastic Canada Ltd | ISBN 9781443128094 Ebook
224 Pages | Ages 0 & Up

Scholastic Canada Ltd | ISBN 9780439974219 Hardcover
224 Pages | 5.56" x 7.69" | Ages 8 to 12

The latest addition to the bestselling Dear Canada series takes readers directly into the historic struggle between the French and English for control of the area. Angelique watches as families are torn apart and forced to settle far away from one another, and worries about her brother who is fighting for the Acadian cause. Will her family stay together during this dramatic time or will they be wrenched apart forever?
Raves & reviews:
Praise for the Dear Canada series:
"The books are lovely — the reader will be drawn into these stories." —Canadian Children's Literature
"Vivid and believable." —Vancouver Sun