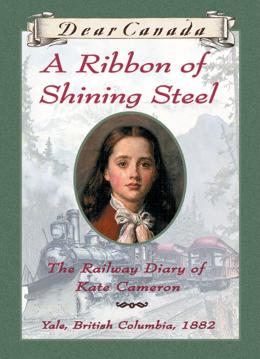 Dear Canada: A Ribbon of Shining Steel: The Railway Diary of Kate Cameron, Yale, British Columbia, 1882
Scholastic Canada Ltd | ISBN 9781443128148 Ebook
208 Pages | Ages 0 & Up

Scholastic Canada Ltd | ISBN 9780439988483 Hardcover
208 Pages | 5.5" x 7.66" | Ages 8 to 12

Kate's father is a builder for the Canadian Pacific Railway as it snakes across the mountains and through the Fraser Canyon. Everyone is excited about the "Iron Horse", but building the railroad is a treacherous undertaking. Kate is always thinking about her father's safety, and the Accident Hospital next door is a constant reminder of the hazards the railroad brings.

Despite the danger, there is tremendous excitement surrounding the creation of the transcontinental railroad as Kate, her town, and all of Canada eagerly await its completion. Vetted by historical experts, each book in this series contains maps, numerous period illustrations, and an extensive historical note.
Raves & reviews:
Praise for Dear Canada: A Ribbon of Shining Steel:
"An engaging read for girls. Historic detail about the building of the railway, attitudes toward the Chinese and aboriginal labourers, gender expectations and education make it illuminating." —The Toronto Star