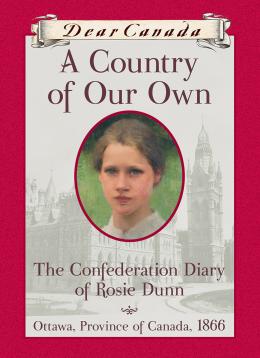 Dear Canada: A Country of Our Own: The Confederation Diary of Rosie Dunn, Ottawa, Province of Canada, 1866
Scholastic Canada Ltd | ISBN 9781443113243 Hardcover
192 Pages | 5.58" x 7.7" | Ages 9 to 12
Scholastic Canada Ltd | ISBN 9781443128506 Ebook
192 Pages | Ages 9 to 12
As the rest of the country gears up for Confederation, Rosie's life is about to be pulled apart.
It's 1866. The year before Confederation. And the year Rosie's life turns upside-down.
She has just gone into service with Mr. Bradley, a civil servant working in Quebec City, the bustling capital of the Province of Canada. When the capital is moved to the rough sawmill town of Ottawa, the Bradleys have to move there too. Rosie will desperately miss her own parents and siblings, and wonders if she will ever have a place in her own family again.
Karleen Bradford draws on her own experience as the wife of a diplomat in Ottawa and embassies around the world to craft this authentic portrait of a young girl displaced in the whirlwind of government.
Raves & reviews:
Praise for the Dear Canada series:
"Bring[s] Canada's past alive for girls . . . The diaries are by well-established authors writing powerful stories with strong personal resonance." Maclean's
"In the hands of great writers, Canadian history is riveting and lively . . . This is the way history should be told." Vancouver International Writers Festival
"These stories will pull you in emotionally and provide you with some authentic and riveting details that transport you into that time period . . . and hopefully propel readers to read and learn more about these Canadian experiences." Resource Links