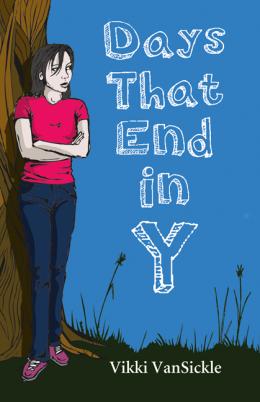 Read an excerpt
Awards
Commended, Best Books for Kids and Teens, Canadian Children's Book Centre, 2013
Commended, Resource Links, Best of the Year, 2013
Days That End in Y
Scholastic Canada Ltd | ISBN 9781443124324 Paperback
240 Pages | 5.02" x 7.72" | Ages 10 to 14
Clarissa tries to find her happily-ever-after in this clever, heartfelt follow-up to Love Is a Four-Letter Word!
One summer. That's all the time it takes to set your world spinning - or so Clarissa learns. Feeling abandoned by Mattie (camp), Benji (drama school), and even Michael (babysitting), Clarissa feels even more alone when her mother tells her she's marrying Doug. This announcement gets Clarissa thinking about her father, and her search for answers leads to her stumbling upon information about the secret teenage life of her mother, and more importantly, about Bill, her absentee father.
Things get complicated when she spots a man who looks a lot like Bill. Approaching him winds up revealing a whole world of surprises that threaten to shake her image of her mother forever.
Will Clarissa be able to move beyond the past and take part in Annie's vision of the future? Happily ever after has never seemed so impossible.
Raves & reviews:
Praise for Love Is a Four-Letter Word:
CCBC Best Books for Kids and Teens, 2012
"Humorous and poignant all at once." -Resource Links
"This book expertly portrays the emotional frenzy of early adolescence. This is a sweet and sensitive story that is perfect for any middle school or junior high aged girl." -Canadian Children's Book News
"Like Like Words That Start With B, Love Is a Four-Letter Word continues to provide an honest outlook of a pre-teen figuring out her relationships and the world around her." -CM Magazine
Praise for Words That Start With B:
Shortlisted, CBA Libris Awards - Young Reader Book of the Year, 2011
CCBC Best Books for Kids and Teens, 2011
Recommended, IODE Violet Downey Book Award, 2011
"A well-crafted and enjoyable first effort from a writer who is obviously tuned into the minds and emotions of young teens." -Quill & Quire
"Clarissa and Benji offer a fresh, honest look at life as an outsider, when you don't quite belong and don't quite know who you are. They're funny and relatable and exactly the kind of characters kids should be reading in today's It Gets Better age." -CBC Books
"A fresh and honest look at a girl's school year in that wonderful, horrible, confusing time known as Grade Seven." -Canadian Bookseller Magazine
"Words That Start With B is the story of how a feisty girl battles a year of surprises, if not with grace, then with a lot of humour." -Open Book Toronto