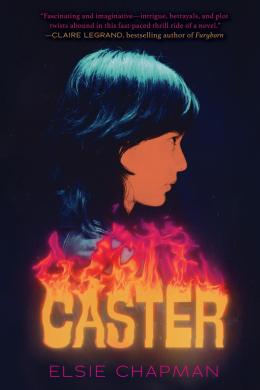 Read an excerpt
Awards
Commended, Best Books for Kids and Teens, Canadian Children's Book Centre, Starred Selection, 2020
Caster
Scholastic Inc. | ISBN 9781338665130 Paperback
352 Pages | Ages 12 & Up
Scholastic Inc. | ISBN 9781338332629 Hardcover
336 Pages | 5.599" x 8.363" | Ages 12 & Up
Scholastic Inc. | ISBN 9781338332636 Ebook
336 Pages | Ages 12 & Up
If the magic doesn't kill her, the truth just might.
Aza Wu knows that real magic is dangerous and illegal. After all, casting killed her sister, Shire. As with all magic, everything comes at a price. Her sister had been casting for money to pay off Saint Willow, the gang leader that oversees her sector of Lotusland. If you want to operate a business there, you have to pay your tribute. And now with Shire dead, Aza must step in to save the legacy of Wu Teas, the teahouse that has been in her family for centuries.
When Aza comes across a secret invitation, she decides she doesn't have much else to lose. She quickly realizes that she's entered herself into an underground casting tournament, and the stakes couldn't be higher. Real magic, real consequences.
As Aza's dangerous web of lies continues to grow, she is caught between trying to find a way out and trapping herself permanently.
Raves & reviews:
"A dark and, at times, vicious and violent story of will and questionable honor." — Kirkus Reviews