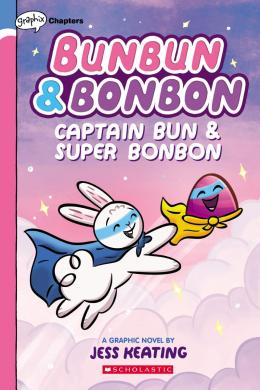 Read an excerpt
Awards
Commended, Best Books for Kids and Teens, Canadian Children's Book Centre, 2022
Captain Bun & Super Bonbon: A Graphix Chapters Book (Bunbun & Bonbon #3)
Scholastic Inc. | ISBN 9781338745924 Paperback
64 Pages | Ages 7 to 10

Scholastic Inc. | ISBN 9781338745931 Hardcover
64 Pages | Ages 7 to 10

Scholastic Inc. | ISBN 9781338745948 Ebook
64 Pages | Ages 7 to 10

Best friends Bunbun and Bonbon discover their superhero alter egos in this adorable series from Graphix Chapters.

For best friends Bunbun and Bonbon, it's the perfect day — until a rainstorm spoils their picnic! Super capes, super strength, and super teamwork make them superheroes, just like the characters from their favorite comic books. But when the going gets tough, will they find the courage to face their fears and help someone in need?

Graphix Chapters are ideal books for beginning and newly independent readers. With approachable page counts, easy-to-follow paneling, and artwork that supports text comprehension, these engaging stories with unforgettable characters help children become lifelong readers.

Get drawn into reading with Graphix Chapters!
Raves & reviews:
A Junior Library Guild selection
Praise for Fancy Friends (Bunbun & Bonbon #1):
"Thick lines, clear borders, bright colors, and a bold, highly readable san serif type make this title ideal for newly independent readers or younger children looking for a first graphic novel to share with a grown-up." -- Kirkus Reviews
"Large panels, visual cues, and clever page turns make this graphic novel from Keating... a dynamic pick for early readers. Its warmth and humor will earn it a bevy of young fans." -- Booklist