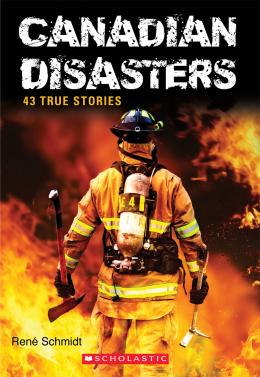 Read an excerpt
Awards
Commended, Best Books for Kids and Teens, Canadian Children's Book Centre, 2013
Canadian Disasters: 43 True Stories
Scholastic Canada Ltd | ISBN 9781443124409 Paperback
176 Pages | 5.26" x 7.61" | Ages 9 to 12
This fascinating compilation of more than 30 Canadian disasters ripped straight from the headlines is now updated with 15 new stories!
"Disasters can occur anywhere and to anybody. You could be involved in a disaster today or tomorrow."
This book provides fascinating, documentary-style accounts about famous Canadian tragedies, such as the sinking of the Titanic in Canadian waters, the Springhill Mine disasters, the Saguenay flood, the Slave Lake fire in 2011, the listeriosis outbreak of 2008 — and many others! The stories chronicle not only the disasters, but also how people struggled to survive or tried to help others.
Updated with a dramatic new cover and 15 brand-new high-stakes stories, this non-fiction favourite has a proven track record of striking a chord with young readers.
Raves & reviews:
Praise for Canadian Disasters:
"Schmidt does an excellent job of making these incidents come alive . . . [Canadian Disasters] will be devoured by young readers who are, like most of the human race, fascinated by disaster. Highly recommended." —CM Magazine
"Each event is recounted in such a way so as to build a sense of dread and foreboding in the reader. The stories are engaging, informative, and succinct, while inspiring empathy for the victims of each tragedy." —CM: Canadian Review of Materials