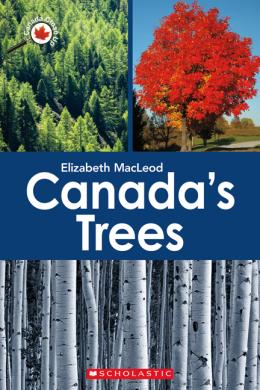 Read an excerpt
Available in French
Awards
Commended, Best Books for Kids and Teens, Canadian Children's Book Centre, 2012
Canada Close Up: Canada's Trees
Scholastic Canada Ltd | ISBN 9781443107396 Paperback
64 Pages | 6" x 8.96" | Ages 7 to 10
Find out all there is to know about Canada's trees!
A fantastic book for 7-to 9-year-olds that explores the characteristics of Canada's many trees. Among the topics explored are: where they grow, what they look like, how they affect the environment, how they are affected by their surroundings, and so much more.
With full-colour photographs throughout, a glossary, a table of contents, and a simple index, learning has never been so easy!
Raves & reviews:
"A fascinating, easy to read book . . . not only an excellent reference for understanding the native trees of Canada, it is also a delightful reading experience. It will appeal to young readers' curiosity about the world around them and will arouse further interest in our native trees and their human connection. Highly Recommended." —Canadian Review of Materials
Extras: