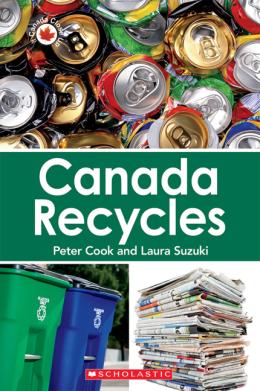 Read an excerpt
Awards
Short-listed, Lane Anderson Prize, Young Reader Award, 2013
Canada Close Up: Canada Recycles
Scholastic Canada Ltd | ISBN 9781443107150 Paperback
64 Pages | 5.99" x 8.92" | Ages 6 to 9
Canadian kids recycle! Find out how Canada is leading the way — at home, at work and in schools.
It's never too early to learn about recycling, and this important new work of non-fiction for junior readers is a wonderful introduction.
In five simple chapters Canada Recycles gives a complete overview, exploring of the different types of recycling, such as plastics, paper, metals, glass, and more.
With plenty of curriculum links, a useful glossary, table of contents, and index, this wonderful book encourages kids to take responsibility and incorporate this important task into their daily routine.
Extras: