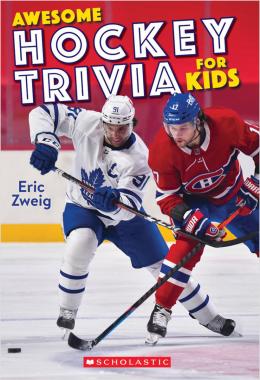 Read an excerpt
Awards
Commended, Best Books for Kids and Teens, Canadian Children's Book Centre, 2023
Awesome Hockey Trivia for Kids
Scholastic Canada Ltd | ISBN 9781443193870 Paperback
128 Pages | 5.278" x 7.627" | Ages 8 to 12
All the facts that young hockey fans really want to know!
What milestone did Connor McDavid hit in his February 17, 2021 game? How many points did Wayne Gretzky amass during his professional career? Who was the youngest goalie to play in the NHL? And which team had the longest trip to the Stanley Cup?
Find out the answers to these questions and so many more, in this latest collection of hockey trivia for kids! This appealing digest is also loaded with illustrations and photos — a perfect immersive read for young students of Canada's greatest game!