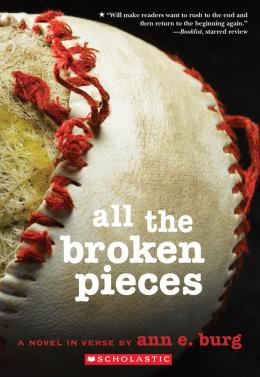 All the Broken Pieces
Scholastic Inc. | ISBN 9780545080934 Paperback
240 Pages | 5.265" x 7.574" | Ages 11 & Up

An award-winning debut novel from a stellar new voice in middle grade fiction.Matt Pin would like to forget: war torn Vietnam, bombs that fell like dead crows, and the terrible secret he left behind. But now that he is living with a caring adoptive family in the United States, he finds himself forced to confront his past. And that means choosing between silence and candor, blame and forgiveness, fear and freedom.By turns harrowing, dreamlike, sad, and triumphant, this searing debut novel, written in lucid verse, reveals an unforgettable perspective on the lasting impact of war and the healing power of love.
Raves & reviews:
Jefferson Cup Award WinnerBooklist Editors' ChoiceALA Best Book for Young AdultsIRA Notable Book for a Global Society*"...[a] stirring debut novel...will make readers want to rush to the end and then return to the beginning again to make connections between past, present, friends and enemies."--Booklist, starred review*"The verse form carries highly charged emotions and heavy content with elegiac simplicity."--Kirkus, starred review*"Using spare free verse, first-time novelist Burg beautifully evokes the emotions of a Vietnamese adoptee as he struggles to come to terms with his past."--Publishers Weekly, starred review"...the story is a lovely, moving one."--School Library Journal