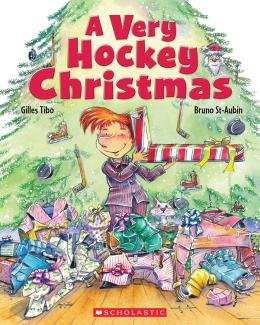 Read an excerpt
Available in French
Awards
Commended, Resource Links, Best of the Year, 2014
A Very Hockey Christmas
Scholastic Canada Ltd | ISBN 9781443128605 Paperback
32 Pages | 7.96" x 9.96" | Ages 3 to 8
All Nicholas wants for Christmas is . . . everything hockey!
Nicholas can hardly contain his excitement leading up to Christmas. There's only one thing on his wish list: hockey gear!
When the big day arrives, Nicholas is ecstatic to discover that he got what he asked for! Only — uh oh — nothing is quite right . . .
When Nicholas realizes he's not the only one with this problem, he has a big one-size-fits-all idea to save the day.
Raves & reviews:
Praise for The Big Game:
"Once again Tibo and St-Aubin have scored! This is a humorous and fast-paced picture book sure to delight hockey fans and non-hockey fans alike." —Resource Links
"The Big Game has a fun and clever twist ending that will make kids smile . . . a relatable read with illustrations that will keep kids' attention." —Canadian Review of Materials