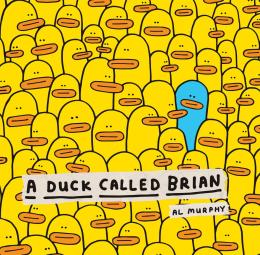 A Duck Called Brian
Scholastic Inc. | ISBN 9781338848113 Paperback
32 Pages | 9.453" x 9.840" | Ages 4 to 6
Only a miracle can save Brian's day from total disaster!
When Brian wakes up and realizes he's out of his favorite breakfast—Duck Nuts and milk—all he wants is to tell his best friend Gregory. But Gregory is nowhere to be found! Brian goes searching for his best friend, and finds many fellow ducks engaged in silly and entertaining activities along the way. Will Brian find Gregory, or will his day be totally fowl?
A Duck Called Brian is a hilarious picture book that's sure to have readers of all ages laughing out loud! With clever artwork, witty humor, and a fun search-and-find element, this story is a rib-tickling read-together tale.
Raves & reviews:
Praise for A Duck Called Brian:
"A duck spends a silly, disasterous day searching for his friend. ...Comical...Playful, absurd, and marvelous." --Kirkus Reviews