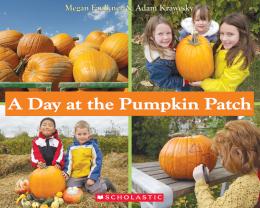 Read an excerpt
Awards
Commended, Canadian Children's Book Centre, Our Choice, 2007
Commended, Resource Links, Best of the Year, 2007
A Day at the Pumpkin Patch
Scholastic Canada Ltd | ISBN 9780439946674 Paperback
32 Pages | 8" x 10" | Ages 4 to 8

A fun and educational trip to the pumpkin patch-just in time to pick a pumpkin and carve a jack o'lantern! In this photographic picture book, filled with simple text and vibrant photographs, readers can join a group of young children on a trip to the pumpkin patch. Thanksgiving and Halloween are almost here, and the pumpkins in the patch are just waiting to be picked! Children will learn how pumpkins grow and what happens to them once they're taken from the patch. This fun and informative book also contains a great pumpkin seed recipe and lots of interesting pumpkin facts!
Raves & reviews:
Praise for A Day at the Apple Orchard:
"The delightful storyline will entertain young readers while the information sections will provide additional notes for older children and adults to read when reading the text aloud." —CM: Canadian Review of Materials