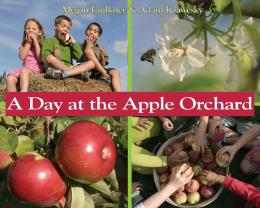 Read an excerpt
Awards
Commended, Canadian Children's Book Centre, Our Choice, 2006
A Day at the Apple Orchard
Scholastic Canada Ltd | ISBN 9780439957137 Paperback
32 Pages | 4" x 6" | Ages 4 to 8

It's fall and the apples in the orchard are ready to be picked! In this photographic picture book with simple text and vibrant images, readers can join a group of young children on a field trip to the apple orchard.As the children tour the orchard, they learn all about the growing process, the history of apples, and where the apples go once they have been picked.An entertaining and educational view of a field trip favourite!
Raves & reviews:
Praise for Day at the Sugar Bush: "Informative text and engaging photos give children a taste of the real thing." - Chronicle Herald. "Every Canadian school and public library should have at least one copy of this little jewel." - Resource Links.