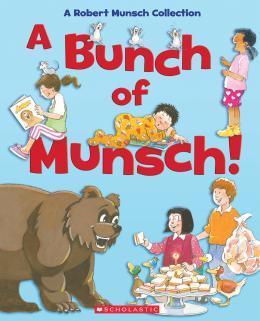 Read an excerpt
A Bunch of Munsch! (Six-book collection): A Robert Munsch Collection
Scholastic Canada Ltd | ISBN 9781443182645 Hardcover
184 Pages | 8.75" x 10.875" | Ages 3 to 8
This oversized collection is the perfect gift for all Munsch fans of all ages!
This amazing collection includes six storytime favourites to read alone or read together. From school stories, to silly pranks, to birthdays and family, these great Robert Munsch tales will have you laughing out loud!
Includes
Pyjama Day!
Seeing Red
Swamp Water
It's My Room!
Roar!
Blackflies
Also included are the untold stories behind the books – what inspired them, where they take place, and more!
Raves & reviews:
Praise for It's My Room!: "A delightful read." — Waterloo Region Record"Robert Munsch continues to put hilarious spins on everyday situations . . . [and] Michael Martchenko's illustrations add lots of extra details for readers to look at." — CM". . .a rollicking tale. . ." — The Chronicle Herald
Praise for Seeing Red: "In trademark Robert Munsch style, the writing features lots of repetition, snappy dialogue and opportunities for audience participation, making it a perfect read-aloud choice." — Resource Links "Martchenko's action-packed artwork will elicit giggles from readers." — Waterloo Region Record
Praise for Swamp Water: "Martchenko's full page illustrations add to the humor of the story. . . The repetition and silliness of the story will make this book a joy to read aloud." — Resource Links
Praise for Pyjama Day"In trademark Robert Munsch style, the writing features lots of repetition and snappy dialogue. With plenty of opportunities for audience participation, Pyjama Day! is a perfectly rousing read-aloud choice." — National Reading Campaign