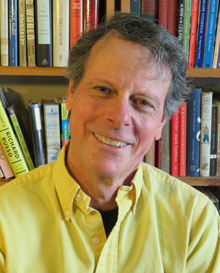 1
Ted Staunton
Ted Staunton wrote his first story as a class assignment at university. He barely handed it in on time, but he's glad he did: it became the picture book Puddleman. Now the award-winning author of over forty books, he writes everything from picture books to middle-grade and YA novels, and non-fiction.
Ted's books with Scholastic include Bounced, What Blows Up, (in The Almost Epic Squad series) Friends for Real, a picture book illustrated by Ruth Ohi and It Seemed Like a Good Idea...: Canadian Feats, Facts and Flubs, non-fiction fun co-written with his son Will Staunton. All in all, he's getting better at handing things in on time.
Ted says that working on What Blows Up helped him understand that he has a superpower too: the uncanny ability to forget names and song lyrics instantly. And many other things, too, probably, but he can't remember what they are just now. He does have some advice for aspiring writers though:
"While there's always something of me in my stories, and lots of imagining, what gets my imagination going is what I see and hear in real life. I could never make up things half as weird as what really goes on. To start imagining, all you have to do is pay attention – and remember to write it down."
Trained as a teacher, Ted is a speaker, performer, and workshop leader in schools, libraries and festivals across Canada. As well, he leads writing workshops at George Brown College. He has also travelled to Ethiopia several times to work with English language writers and editors there.
When not being bookish Ted plays music, often in the MAPLE LEAF CHAMPIONS JUG BAND. (He always brings his guitar and banjo to school presentations too.) He enjoys running, reading, writing and tunes. Born young, he is now older. Ted and his family live in Port Hope, Ontario. Find out more about Ted and his books at www.tedstauntonbooks.com.