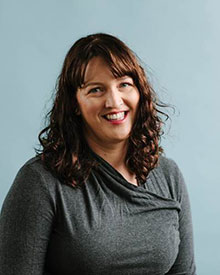 Photo: Grady Mitchell
Stacey Matson
On her path to becoming a writer, Stacey completed a Bachelor of Fine Arts in Theatre at the University of Calgary and rearned a Master of Arts in Children's Literature from the University of British Columbia. She's currently a creative writing mentor with the Writers' Exchange in Vancouver. Stacey is the writer-in-residence at the Berton House in Dawson City, Yukon for winter 2017. She has held various positions in the arts across the country, including Parliamentary Tour Program Manager and Education Outreach Manager at the Library of Parliament in Ottawa, Costumed Interpreter at the Glenbow Museum in Calgary and Interpreter at the Vancouver Aquarium. But she took on some more unique challenges to put herself through university, working as a belly dancer in the evenings and as a fairy princess for children's birthday parties during the day.
Stacey's travels have taken her to Great Britain, France, Brazil, Croatia, Germany, Australia, Indonesia, Argentina, Peru, Turkey and Japan, and she hopes to explore Northern Canada, Iceland, Brazil and just about everywhere in between. In her free time she enjoys squash, tennis, skiing, knitting, cooking and reading. She also plays piano and tries to play the ukulele.
Stacey started A Year in the Life of a Total and Complete Genius as a short writing assignment for a class in her master's program, and the story blossomed into a novel from there. "It certainly wasn't the book I always thought I would write," she explains. "A lot of the story comes from personal experiences I had as a kid, as I felt keenly the pressure that comes when you want to write a masterpiece." Stacey remembers being in grade five and panicking over not having a great story for class, and hating herself for it. This challenge persisted throughout school. She once even tried to hand in her own version of Don Quixote, thinking that her teacher would never notice that it was plagiarized – an incident that made its way into her first novel. (She had no idea that Don Quixote was actually a famous novel, and thought Man of La Mancha was only a small musical no one had heard of.)
The Arthur Bean trilogy includes Scenes from the Epic Life of a Total Genius and Notes from the Life of a Total Genius. Her new novel Finding Cooper is inspired by a real FBI case. Visit Stacey Matson online at www.staceymatson.com.