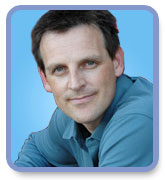 Patrick Carman
Born:
Salem, Oregon,
United States Of America

Current Home:
Walla Walla, Washington,
United States Of America

The father of two young daughters, first-time author
Patrick Carman had already built four successful businesses from the ground up before adding "novelist" to his resume. In fact, it wasn't until he began trading places once a week with his wife, so she could have a night out, and he took over reading to their daughters, that Carman began thinking about writing a novel.

As the months passed, Carman began spinning a tale for his four- and six-year-olds about a girl trapped behind the walls surrounding her village and her adventures as she attempted to escape to explore the forests beyond. In the year that followed, he "journaled" his thoughts and sketched out impressions about the characters and place that would become The Land of Elyon series.

A Northwest native, he grew up in Salem, Oregon, and graduated from Willamette University with a degree in economics. Carman then spent a decade living in Portland, where he founded and ran his own advertising agency. After selling it in 1998, he created a series of popular board games, and founded and built MyWebPal.com into the third-largest provider of online newspaper publishing in the U.S. He also launched a fourth new business, Amped Radio during the same time period that he was writing The Dark Hills Divide.

Long devoted to counseling troubled youth, Carman created his "Lifetime Mentoring Program" four years ago. He and his wife have also been deeply involved with the Agros Foundation. Founded in 1982, the non-profit organization assists seventeen developing communities in Central America and has helped over 3000 people break free from poverty through land ownership and technical assistance.

Patrick Carman lives in Washington with his wife, Karen, and daughters, Reese and Sierra.