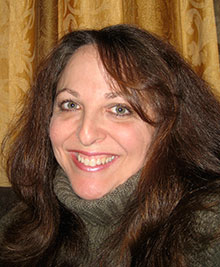 Patricia Storms
Patricia Storms was 12 years old when her first cartoon was published in a Toronto newspaper. She got paid five dollars for that cartoon, and has been inspired to draw fun and silly pictures ever since. It was while growing up in Burlington, Ontario, that Patricia honed her cartooning skills, drawing pictures of teachers and friends in all her classes.
As well as being an award-winning cartoonist, Patricia is also an author and illustrator of children's books and humour books. Her cartoons have been published in Reader's Digest, the National Post, The London Times, the London Evening Standard and The Chronicle of Higher Education. Patricia has also worked as a library technician, a book binder, a desktop publisher and a graphic designer, but her favourite job is creating books for children.
She has illustrated five books for Scholastic Canada: 13 Ghosts of Halloween, Be a Writing Superstar, The Ghosts Go Spooking, If You're Thankful and You Know It. and Snowy Science. In 2014, a book she both wrote and illustrated Never Let You Go was released and it is now also available in board book format, perfect for sharing with little ones! The National Reading Campaign described Never Let You Go as "... a cuddle-up-and-read book that is sure to evoke laughter and hugs."
Patricia lives and creates in Toronto, Canada, with her husband and two fat cats in a cozy old house full to the brim with books.