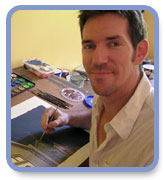 Nick Bland
Nick Bland was born on a farm in the Australian Yarra Valley in 1973. The son of an artist and a primary school teacher, he spent his early childhood climbing haystacks and making mischief in his father's studio. When he moved to "the bush" at age 6, he discovered a wonderful new world and his creativity bloomed.

Nick always told family and friends he was going to be a cartoonist and a writer. It wasn't until 1996, when he stumbled into a bookshop job, that he finally found the medium that would bring those two loves together. Untrained, he spent the next couple of years reading every picture book that hit the shelves and began honing his style as a storyteller and illustrator.

He illustrated several readers before sending A Monster Wrote Me a Letter to Scholastic Australia in 2001. Since then, Nick has written and illustrated many, many titles, such as I Lost My Kisses and created the adorable bear that now features in a whole series of books that started withThe Very Cranky Bear.

He lives in tropical Darwin, where he works as a guardian for 120 aboriginal boys who board nearby. He loves both of his jobs and hopes to combine them in the near future.

Q & A with Nick Bland

Where were you born? Where do you live now?
Born in Lilydale, Victoria., Australia. Living at Wagait Beach near Darwin, Northern Territory, Australia

Where did you go to school?
Bendigo.

Did you have a nickname?
Nothing that stuck.

What were you like in school?
Straight A's and several suspensions, one expulsion, one reinstatement. Not my best years.

What is the naughtiest thing you did?
Let's not talk about that.

What was your favourite book growing up?
A Boy, a Dog and a Frog by Mercer Mayer. It was wordless and colourless but absolutely perfect.

Who are your favourite children's authors/illustrators?
Shaun Tan and Chris Van Allsberg.

What is your favourite food / colour / movie?
Curry / Brown / Pulp Fiction.

Who inspired you to write and illustrate?
Maurice Sendak, Deb and Kilmeny Niland, Murray Ball (Footrot Flats), Michael Leunig, William Archibald Spooner.

How did you get started?
Worked in a bookshop, illustrated readers, worked hard on style and content then sent off an unsolicited manuscript called A Monster Wrote Me a Letter.

How old were you?
30

Why did you want to be an author and illustrator?
It is such a unique art form and one I believed I could become good at.

How do you think up ideas?
I relax and wait for them to come to me.

Do you have a special place where you write and illustrate?
Beside the ocean.

What is the best thing about being an author and illustrator?
Being your own boss.

Have you had any funny or embarrassing moment as an author and illustrator?
I once finished a whole book before I realised I'd done an extra page. Luckily it could be omitted without disrupting the flow of the book.

What do you do when you are not writing or illustrating?
Gardening and housework.

What would you have chosen to be if you were not an author or illustrator?
Industrial engineer.

Which famous person from the past would you like to talk to?
Herron of Alexandria. He invented two components of the internal combustion engine in about 60 AD but never got around to combining them. It would be another 1800 years until someone did.

Is there anything else you would like to tell us about yourself?
I'm colour blind. I see colours but slightly differently to most people.