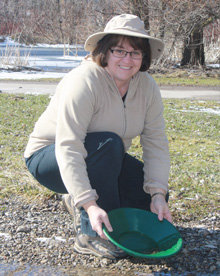 Natalie Hyde
Natalie Hyde writes fiction and non-fiction for middle-grade and young adult readers. Her fiction titles include Saving Armpit, I Owe You One and Hockey Girl. Some of her non-fiction titles are: Cryptic Canada, Glow-in-the-Dark Creatures and Stay Strong: A Musician's Journey from Congo to Canada. Her latest novel Up the Creek is a follow up to the madcap adventure that takes readers on a quest to find gold – Mine!
History, the more mysterious, the better, has always interested Natalie. "In another life I may have been an archaeologist. Or maybe a tomb robber," she says. She is fascinated with genealogy and has traced her family's history back to the 1700s. "So far I have found a ghost, a murderess, and a sea captain. I am still looking for a pirate!" she exclaims.
Natalie's books have garnered award nominations in both Canada and the U.S. She lives in with her family in southern Ontario. Visit her at www.nataliehyde.com.
A Q&A with Natalie Hyde:
Where did you get the idea for Mine!?
Sometimes when I needed a break I would watch TV shows that followed gold miners. I was fascinated by their search for riches and talk about how the "old-timers" mined. Deep down, I wished I could head to the Yukon to try my hand at making a fortune. Instead, I let my character have all the fun!
Can people still mine for gold?
Mining is still big business in the North. Rather than struggle to the Yukon with pack mules over snowy mountain passes, many new miners prospect using helicopters and ATVs. But gold fever is alive and well, and it's all I can do to not hit "Buy Now" on the sites selling land for gold mining.
Have you ever panned for gold?
I have tried my hand at it, and found seven gold flakes in the dirt I panned! It was fun and easy to see how quickly I could get gold fever. I now also have a metal detector and plan on trying it out as soon as the weather is warm.
Where do you like to write?
I don't have an office or writing shed. However, I do have a laptop, so I tend to write wherever it is warm and comfortable. In the winter I write on a soft couch in a nook beside a big window in our bedroom. In the summer I tend to write on my deck as soon as it is warm outside . . . and sometimes even if it isn't — I have been known to wrap myself up in a warm blanket and hoodie just to get outside early in the spring.
How long did it take you to write Mine!?
Like gold mining, writing can be a slow process of collecting little bits at a time. I often start with character sketches and a hand-drawn map before I begin putting words to paper or screen. So from idea to finished manuscript, Mine! took about a year and a half. Edits took that long again, so it was at least three years before I held the book in my hand.
Did you always want to be a writer?
I didn't always know that I would one day be a writer, but I did always have an active imagination. I dug out my old report cards recently and saw that even in elementary school teachers mentioned what good stories I came up with. I didn't actually think of writing as a career until I had children and started telling them stories.
What do you like to do when you are not writing?
I am happiest at the beach or in the mountains. I also like to bake, but I'm not that keen on cleaning up afterwards! I love history and collect artifacts from ancient cultures like Egypt and Rome, and I like to travel to ancient sites. I also enjoy my own family history and have researched my family tree for many years. Now, of course, I like to pan for gold, too!