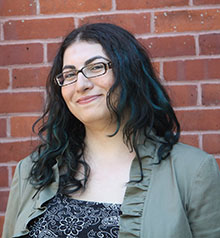 Leah Bobet
Leah Bobet grew up in Vaughan, Ontario with her head in the clouds — or, under the blankets with a flashlight and a book. Or, behind the couch with a box of crackers and a book. She spent most of high school in choirs and amateur theatre, painting bad watercolours. She was even in a rock band for about three days before she began writing fiction again.
As well as her debut, Above and her most recent novel An Inheritance of Ashes, Leah is the author of multiple short stories and poems, which appear in magazines, anthologies and school readers from North America to the UK and Australia. She is also a recipient of the Lydia Langstaff Memorial Prize.
Leah lives in a hundred-year-old house in downtown Toronto, where she works as an editor, bookseller and urban agriculture/public space activist. She plays an old blue acoustic guitar, and goes to a lot of concerts. For more, visit www.leahbobet.com.