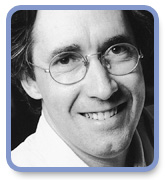 Gilles Tibo
By the age of 10, Gilles Tibo knew he wanted to be an illustrator. He was very disciplined and created several drawings every day. He made sure to date all of them and sometimes added a short story. Soon after, he began to have his drawings and comic strips published in newspapers – his first book of comics was published when he was 18 years old!

Gilles made his debut in the world of children's literature in 1975. He illustrated more than 80 picture books for children before buying a computer and discovering a new passion – writing – and creating many acclaimed picture books as both author and illustrator, including the classic Simon series. He has received many honours, including two Governor General's Awards for Children's Literature – one for text, and one for illustration.

Today Gilles is more concerned about the feelings of his characters than their appearance. He is happy to let others illustrate his stories. Gilles has had several titles published by Scholastic, including the Nicholas series: Where's My Hockey Sweater?, Hurry Up Nicholas!, The Best Goalie Ever and more. The Nicholas title Too Many Books was a finalist for the Ontario Library Association's Blue Spruce Award and was selected by The Canadian Children's Book Centre as the TD Grade One Book Giveaway book and was distributed to over 500,000 children across Canada!