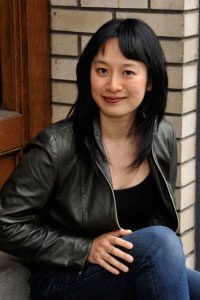 Fonda Lee
Fonda Lee writes science fiction and fantasy for teens and adults. Her debut novel, Zeroboxer was an Andre Norton Award finalist, Jr. Library Guild Selection, ALA Top 10 Quick Pick for Reluctant Young Adult Readers, Oregon Book Award finalist, and Oregon Spirit Book Award winner. Her second novel, Exo, was published by Scholastic in 2017 followed by its sequel Cross Fire.

Fonda wrote her first novel, about a dragon on a quest for a magic pendant, in fifth grade during the long bus ride to and from school each day. Many years later, she cast her high school classmates as characters in her second novel, a pulpy superhero saga co-written with a friend by passing a graphing calculator back and forth during biology class. Fortunately, both of these experiments are lost to the world forever.

Fonda is a former corporate strategist who has worked for or advised a number of Fortune 500 companies. She holds black belts in karate and kung fu, goes mad for smart action movies (think The Matrix, Inception, and Minority Report) and is an Eggs Benedict enthusiast. Born and raised in Calgary, Alberta, she currently resides in Portland, Oregon.