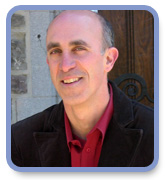 David Skuy
How does a lawyer who holds a Ph.D. in History end up as a writer for young adults?

It's not a trick question. David Skuy started writing the Game Time series because he wanted to recreate the types of books he loved as a kid. Having a son who is a reluctant reader, David has first-hand knowledge of how difficult it is to engage boys in books in the face of video games and computers. In fact, since writing Off the Crossbar, the first book in the series, David has become greatly involved in this issue and has been speaking to school groups, in the hopes of inspiring them to read.

"I was an avid reader when I was a kid – and until I turned 14 or 15 I only read sports books. In fact, all I really cared about or did was related in some way to sports," he admits. He has transferred all of that passion into his writing. His aim is to inject a sense of authenticity to novels of this genre and to also infuse a sense of ethics that is often lacking in youth sports today.

"The sports genre has disappeared to a great extent for boys above the age of eight, probably because boys don't read much. Fantasy aside, the choices are relatively slim. Charlie Joyce was created to fill that void – by offering a main character boys can relate to," explains David.

David is married and has two children: a son and a daughter. He continues to play hockey and coaches at minor league level. David's latest novel, Ice Time, was published in 2016.


A note from David Skuy

An author's bio page is a funny thing – I want you to read my books, not my bio! So what can I tell you about myself to make you want to read more?

Maybe I'll explain why my novels are rooted in real life.

I have nothing against fantasy or futuristic books; dragons are cool creatures, so are zombies, and I love Hobbits as much as the next person. My books are different, though. I write for kids who want to relate to something in their own lives, who want to lose themselves in the drama. Though my books have a general sports theme, I really write for all kids, boys and girls alike, who love to read about the world they live in. Moving to a new town, getting cut from a hockey team, being hungry or feeling alone, or facing a serious illness, these are the kind of stories that I hope kids will engage with — and maybe — even stay up late at night to finish.

If you enjoy one of my books – that's great. If you love to read a different type of book – that's great too. Just keep on reading!