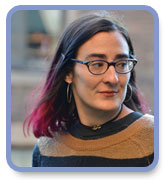 Cecil Castellucci
Cecil Castellucci's novels for young adults include First Day on Earth, Rose Sees Red, Beige, The Queen of Cool and Boy Proof. She has also written a picture book called Grandma's Gloves and the graphic novels The Plain Janes and Janes in Love, both illustrated by Jim Rugg. The Plain Janes was the launch title for DC Comics Minx line and won her the Shuster Award for Best Canadian Comic Book Writer.
Her short stories have been published in various places including Strange Horizons, The Eternal Kiss, Interfictions 2, Teeth, and Geektastic (which she co-edited). Her books have been on the Young Adult Library Services Association's Best Book for Young Adults list, Quick Pick for Reluctant Readers list and Great Graphic Novels for Teens list, as well as New York City Public Library's Books for the Teen Age list and the Amelia Bloomer list. Her latest book Don't Cosplay with My Heart features a teen who copes with her troubles by cosplaying her favorite comic-book character!
In addition to writing books, she writes operas and plays, makes movies, does performance pieces, occasionally rocks out and is the current YA Editor for the Los Angeles Review of Books. For more information go to www.misscecil.com.