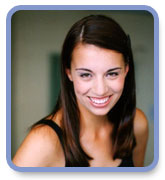 Adrienne Kress
Adrienne Kress is a writer and actress born and raised in Toronto, Canada. It was only natural that Adrienne, the daughter of two high school English teachers, should fall in love with both creating and performing the written word.

She majored in Drama at the age of 11 at the Claude Watson School for the Arts, and continued to follow this path through post-secondary school, graduating summa cum laude from the University of Toronto with an honours BA in theatre. She then moved to London England to study at the London Academy of Music and Dramatic Arts and stayed for three years, acting in a variety of productions. Upon her return to Canada, she joined the Tempest Theatre Group, a Shakespearean theatre company, and continued to produce and direct her own work.

Running parallel to her passion for acting was always her passion for writing. In high school, she won the Gordon C Johnson award for her work, and in university she studied with top Canadian playwright Djanet Sears. The play she wrote as a result of that experience, A Weekend in the Country, was performed at the Edinburgh Festival Fringe in 2004 and in Toronto at the Summerworks Theatre Festival in 2007, to excellent reviews and sold out houses.

Inspired by a trip to the town of Bath, Adrienne wrote Alex and the Ironic Gentleman while living in London, England. The sequel to the book, Timothy and the Dragon's Gate, has also been picked up by publishers around the world and was released in the United States, Canada and the UK and Commonwealth in early 2009.

Adrienne is presently living in Toronto where she is continuing her writing, acting and directing careers.