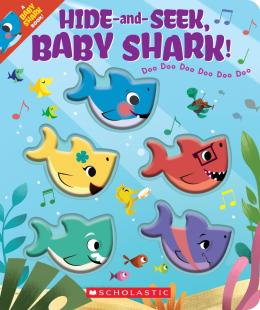 Hide-and-Seek, Baby Shark!
Scholastic Inc. | ISBN 9781338605006 Board book
12 Pages | 6.985" x 8.278" | Ages 0 to 3
Join Baby, Mama, Daddy, Grandma, and Grandpa Shark in this rollicking hide-and-seek countdown!Baby Shark loves to play Hide-and-seek every day. Help him count down one by one. Mama Shark - time to run!Join Baby Shark as he plays hide-and-seek in this rhyming countdown! Five squishy sharks peek through the die-cut pages, disappearing in a fun countdown on every spread as the sharks play hide-and-seek. Featuring a bouncy rhyme, the catchy baby shark refrain, and interactive touch-and-feel novelty, this title is bound to become a kid-favorite!