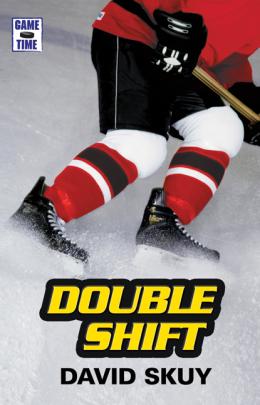 Read an excerpt
Awards
Commended, Best Books for Kids and Teens, Canadian Children's Book Centre, 2013
Commended, Resource Links, Best of the Year, 2013
Game Time: Double Shift
Scholastic Canada Ltd | ISBN 9781443119412 Paperback
240 Pages | 4.98" x 7.75" | Ages 10 to 14
Scholastic Canada Ltd | ISBN 9781443119757 Ebook
240 Pages | Ages 10 to 14
Charlie learns that sometimes the most heroic thing you can do is ask for help.
One night, Charlie's mom entrusts him with closing up the café while she runs an errand. Distracted by the rivals who come in to taunt him, Charlie completely forgets to turn off the stove when he leaves.
When Charlie and Pudge come back after their hockey game, they're devastated to find there has been a fire at the café. And the insurance company won't pay for the damage because Charlie is underage and shouldn't have been using the stove.
Charlie is overwhelmed by guilt. His hockey game and friendships suffer. And with bank payments looming, his mom decides she must take a job in another city.
When he finally tells his teammates what happened, they all suggest ways to help.
With support from the community, and relying on green principles, like using building materials that have been thrown out or are no longer needed (freecycling!), they pull together and pull it off at the last second!