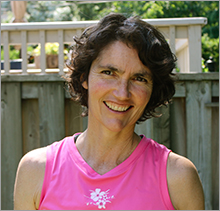 Susan Hughes
Susan Hughes is an award-winning writer of more than 25 children's books, including picture books, chapter books (such as The Puppy Collection series and the Wild Paws series, published by Scholastic Canada), young adult novels, non-fiction for all ages, and even a non-fiction graphic novel. Her books have received multiple nominations for the Forest of Reading awards, the TD Children's Literature Awards, and the Norma Fleck Award for Canadian Children's Literature. She was thrilled when her non-fiction book Case Closed: 9 Mysteries Unlocked by Modern Science won the Norma Fleck Award in 2011.
Susan is also a freelance editor who works with educational publishers to develop student books on topics ranging from geography and history to science and Aboriginal studies for various grade levels. As well, she helps other writers revise and improve their own manuscripts. She was a Writer-in-Residence for the Toronto District School Board from 2012 to2013, and she writes a blog about children's literature for Open Book Toronto.
When she was a girl, she took riding lessons and loved taking her dog for long walks. In fact, Susan and her best friend loved animals so much that they created dozens of invisible horses and dogs with names and personalities. They drew pictures and wrote descriptions of them too. Have you guessed? Yes, this is where the idea for The Puppy Collection came from! In this new chapter book series, three friends look after puppies and create a scrapbook to record everything about them.
To wannabe writers, Susan has this advice: "Read, read, read. Write, write, write. Then read what you write. Read it carefully. Then revise, revise, revise. Now, do your words, your sentences, your paragraphs, your chapters, create something that 'clicks' with you? There you go. Time to let others enjoy it."
Susan goes for a run at least every other day — and she goes to her local library just about as often! She enjoys bird-watching and looking after her daughter's very lively Yorkie-Pomeranian puppy, Sparky, but doesn't usually do both at the same time. As well, she loves receiving and replying to letters from readers, young or old. (Hint, hint!) Want to find out more about Susan, her books, her activities and how to get in touch with her? Check out her website at www.susanhughes.ca.