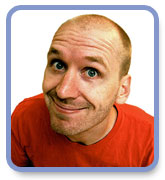 Mike Boldt
Mike Boldt had a successful career illustrating children's products, including pop-up books, iPhone games and comics, before making the leap into picture books. It makes sense for someone who easily admits to having a special interest in ice cream, Legos, cartoons, and all things Star Wars. Mike also loves J.R.R. Tolkien's The Hobbit, and he grew up on a steady diet of Bill Peet and Bill Watterson books. As a child, Mike spent much of his time drawing and creating stories of his own.
"At one point, I thought I would become a marine biologist, only because the dream of working for Disney seemed too far-fetched. But with the constant encouragement and support from my parents to pursue a career I would really enjoy, I have been illustrating professionally for 14 years," explains Mike.
Although he loves to sketch with just a pencil, his work now is almost exclusively digital. His Scholastic Canada books include Get Me Another One, The Duck Says and Little Jack Horner, Live from the Corner. He is also the author-illustrator of The Gophers in Farmer Burrows' Field and 123 versus ABC.
Mike lived for a year in South Korea and had the opportunity to see Japan, Thailand, Cambodia, and China. He is now married with three children and lives in Stony Plain, Alberta. Visit him online at www.mikeboldt.ca.