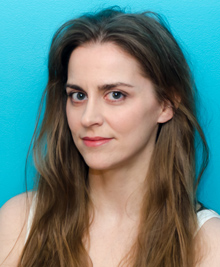 Jess Keating
Jess Keating writes books for curious and creative kids! As an author, cartoonist, and zoologist, Jess has tickled a shark, lost a staring contest with a crocodile, and played hopscotch with a bunny. Her books seamlessly blend science, humour, creativity, and curiosity.
With her books, Jess aims to foster curiosity to empower young readers to explore their own passions. Her books with Scholastic include the middle-grade adventure series, Elements of Genius, the Bunbun & Bonbon series of graphic novels about friendship, and the non-fiction picture bookw Eat Your Rocks, Croc!: Dr. Glider's Advice for Troubled Animalsand Set Your Alarm, Sloth!: More Advice for Troubled Animals from Dr. Glider.
Jess is also an advocate for literacy, women in science and conservation and loves to share her love of the natural world with young readers. She lives in Ontario, Canada, where she's surrounded by books, bunnies, and bonbons.
Visit jesskeatingbooks.com for lots of amazing free videos, art, and tips to help kids with all kinds of creative projects. Follow Jess on Twitter at @Jess_Keating, on Instagram @JessKeatingBooks, and subscribe at jesskeatingbooks.com/newsletter for your weekly copy of "The Curious Creative," her free classroom-friendly newsletter for parents, teachers, and young creatives.