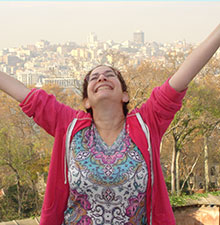 H Becker
Talking is what I do best. Writing is how I talk when no one else is around.
Helaine Becker is an award-winning writer of children's books, educational materials, magazine feature articles and television projects. She was born in Plainview, NY and graduated from Duke University with a degree in History. She is married and has two sons, who have been the inspiration for many of her books. She now lives in Toronto, Ontario.
These credentials have added up to make Helaine a dynamo in the children's book world. She always has a million projects on the go, all at once! She is the author of the incredibly popular A Porcupine in a Pine Tree and its two sequels, Don't Stress: How to Handle Life's Little Problems and its companion books as well as The Canadian Kids' Guide to Outdoor Fun. She is working on the fourth season of a humorous science-related TV show called Planet Echo, and is hard at work on more middle-grade fiction and non-fiction projects.
Helaine claims the most important education in her life was not from school but from two important sources: first, the public library in her town; second, travelling around the world. "Get on your duff and read, I say," proclaims Helaine. "Then get off your duff and go see the world. You will be a broader, wiser, kinder person if you follow this path!"
True to her word, Helaine is a read-aholic and a fearless traveller. Some of her adventures include climbing an active volcano in Guatemala, hiking the Inca Trail in Peru, sailing down the Nile in Egypt, and swimming with sea turtles in Hawaii. She is currently working with Librarians without Borders to fund a library/well-building project in Cambodia.
People often ask Helaine what inspires her to write, and to write for children. Her answer is: "Everything inspires me. The world is fascinating and so darn silly. And I don't write for children. I write for myself." This is probably because she insists she is 11 years old in her soul and hopes never to become a teenager — once was enough. Learn more about Helaine at www.helainebecker.com.