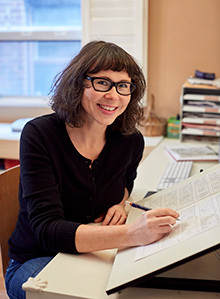 Claudia Dávila
Claudia Dávila (she/her) writes, illustrates and designs books for kids of all ages, with stories and themes that encourage children to be strong, thoughtful, compassionate and responsible people.
Claudia's deep love of nature, coupled with her fascination for how people interact with it, inspired her to write and illustrate her first book, the award-winning graphic novel Luz Sees The Light. Since then, she has gone on to write and illustrate the second Luz book, Luz Makes a Splash, and her first picture book Super Red Riding Hood. "From as early as I can remember, I loved to draw, and I've always loved stories. It took until I was fully grown-up to realize that I could be an illustrator!"
She didn't know any illustrators growing up, so she started out working with computers, doing graphic design, which led to working at OWL magazine. As art director of Chirp and Chickadee magazines, she got to meet lots of illustrators! That gave her the encouragement needed to take the leap and start drawing for books. Claudia has now illustrated over 30 children's fiction and non-fiction books, including the award-winning graphic novel biography Child Soldier: When Boys and Girls are Used in War and the Scholastic books The Canadian Kids' Guide To Outdoor Fun, Fast Friends (the TD Grade One Giveaway book winner in 2022) and its sequel Friends Find a Way.
Looking at other illustrator's pictures, and reading lots of kids' books, continually inspires Claudia to draw and come up with story ideas. "The world is full of creators," she says "and it's wonderful to be a part of that world." Her advice to young creators is "if you like drawing, draw a lot! If you like writing, write a lot! There is no right or wrong way to be creative, and there is only YOUR version of YOU, so don't feel like you need to be like anyone else."
Born in Santiago, Chile, Claudia now makes her home in Toronto with her husband, author/illustrator Michael Cho, and their two kids. They spend many evenings together drawing, sketching and making up funny characters and super silly stories.