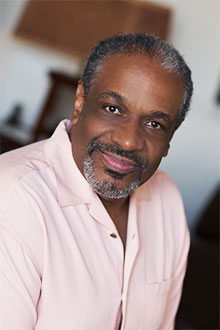 Photo credit: Daniel Syphax Harris
Christopher Paul Curtis
Christopher Paul Curtis grew up in Flint, Michigan. After high school, he spent 13 years on the assembly line of the Fisher Body Flint Plant No. 1 where his job hanging car doors left him with a lifelong aversion to getting in and out of automobiles. He graduated from the University of Michigan – Flint, where he began writing fiction. His first novel, The Watsons Go to Birmingham – 1963 was awarded both a Newbery Honor and a Coretta Scott King Honor in 1996. His second novel, Bud, Not Buddy received the Newbery Medal and a Coretta Scott King Award in 2000.

Elijah of Buxton was his first book set in Canada. Elijah of Buxton was a Newbery Honor Book and won the TD Canadian Children's Literature Award, the Geoffrey Bilson Award for Historical Fiction and the Canadian Library Association Book of the Year Award in 2008.

"This novel came to me in a way that was far different than any other," says Christopher. "From the word 'go' Elijah and I became close friends. When I'd go to the library to write, it was as if he were anxiously waiting for me, waiting to tell about his life, his worries, his adventures."

In his second Buxton novelThe Madman of Piney Woods, a tale brimming with intrigue and adventure, Christopher returned to the vibrant world he brought to life in Elijah of Buxton. His latest novel The Journey of Little Charlie is the story of Little Charlie Bobo, the son of a white sharecropper from South Carolina who finds himself accompanying a slave catcher on a life-changing journey north.

Christopher lives with his family in Windsor, Ontario. Visit him at www.nobodybutcurtis.com.