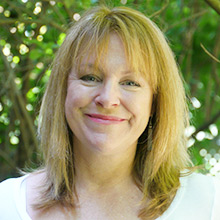 Andrea Lynn Beck
When Andrea first began to write, she was influenced mostly by childhood memories and British authors — though she had a few standout Canadian favourites. She liked the idea of writing a series for children that created a cozy world and characters that readers could revisit, yet differently each time. Her first stories became the Elliot Moose series. It features Elliot, a young moose toy who lives in a big house with his friends. Now, Andrea finds she is influenced by the children she meets, the things she sees and hears, and ideas she wants to share.
Andrea grew up in Rosemère, Quebec, the youngest of three girls. It was a small town where she could ramble and play. The summers were lots of fun and the winters were very cold, and snowy. "I remember once it was minus 30 degrees and my sister Debbie and I had forgotten our keys! Our poor fingers and toes froze so badly that I took a shovel and smashed in our back door to get inside. I was fairly certain my parents would understand, and they did because it was THAT cold!" She recalls how good it felt when her parents didn't blink an eye, and actually seemed proud of her.
When she was really small, Andrea was the tag-a-long, pain in the butt baby. Her sisters preferred to play with their friends so she became good at entertaining herself with her toys, Monkey and Pinky. Since there were few books in her home Andrea made up her own stories and played pretend with her toy friends. She recalls how she imagined that Monkey could hear her and had his own thoughts inside his furry head. "One day," says Andrea, "long after I stopped playing with my toys, I came home to find they had been 'cleaned up.' I never saw Monkey and Pinky again and I still want them back!" This incident may have been the roots of her becoming a toymaker, and then a children's writer whose first stories were about toys. For Andrea, "The best thing about being a children's author is that in some ways, I don't have to grow up – I can keep playing pretend forever!"
Andrea lives just north of Toronto and has two grown sons who are writers and filmmakers – which means they are storymakers, too! She claims that her beagle, Tillie, is the world's best food thief. "Tillie waits until everyone is distracted – then she makes her move! She can eat a whole can of sardines without even opening the lid – she crunches the can and sucks the insides out!"
Andrea is an avid gardener and has travelled the world. She is fond of animals and has thirty goldfish in her backyard pond. Her family has fostered baby squirrels, baby rabbits, a quail and once she rescued a huge owl stranded in the middle of traffic!
Andrea's books have received numerous awards and honours including being shortlisted for the Amelia Frances Howard-Gibbon Award for Illustration for Pierre La Poof, the OLA Blue Spruce Award for Buttercup's Lovely Day (written by Carolyn Beck) and the Shining Willow for Elliot's Noisy Night. Almost every one of Andrea's books has been selected for the Best Books for Kids by the Canadian Children's Book Centre. Goodnight, Canada was shortlisted for the Amelia Frances Howard-Gibbon Illustrator's Award in 2013 and was also a Best Books for Kids and Teens selection. Good Morning, Canada was the TD Grade 1 Giveaway book in 2017 and was distributed to Grade 1 students across Canada. Her latest book is Goodnight, World.