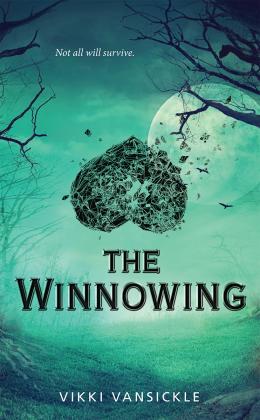 Read an excerpt
Awards
Short-listed, Snow Willow Award (Saskatchewan Young Readers' Choice), 2018
Short-listed, OLA Red Maple Award, Fiction, 2018
The Winnowing
Scholastic Canada Ltd | ISBN 9781443148863 Paperback
312 Pages | 5.22" x 8.38" | Ages 12 & Up
Scholastic Canada Ltd | ISBN 9781443148870 Ebook
312 Pages | Ages 12 & Up
In a world where the familiar has sinister undertones, two friends are torn apart just when they need one another most.
Marivic Stone lives in Darby, a small town famous for a medical discovery that saved humankind. Now everyone must undergo a secret procedure called the winnowing, an inevitable — and dangerous — rite of adolescence.
No one who has experienced the winnowing remembers anything about it, but Marivic and her best friend Saren, are determined to learn the truth. What they uncover could change the world forever — if they survive.
Extras:
A Note from Vikki VanSickle
On Friday nights in grade seven you could find me in the basement, in the dark, watching The X-Files. Conspiracy theories? Loved them. Alternate histories? Couldn't get enough. My obsession culminated in a friend and me attending an X-Files convention wearing FBI badges made in Microsoft Paint — hers said Mulder, mine said Scully — at which I got up in front of a conference room full of much older "X‑Philes" and a panel of screenwriters to pitch my idea for an episode.
At first glance, The Winnowing might seem at odds with my previous work. Essentially I'm exploring my perennial themes — relationships, coming of age — set in a world that could have been. I'm interested in what ordinary people do in extraordinary situations. What if you don't want to save the world, you just want to save your friend? The Winnowing is a love letter to The X-Files and the worlds and concepts that show opened up for me. But it's also about the everyday, inescapable conflicts of adolescence: fighting with your best friend, working with your arch-nemesis, worrying about your appearance and wondering where you fit in the world.
Oh, and that X-Files pitch session I entered back in 1995? I won.