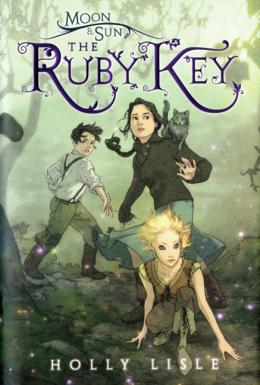 Moon and Sun Book One: The Ruby Key
Scholastic Inc | ISBN 9780545000123 Hardcover
368 Pages | 5.94" x 8.58" | Ages 9 to 12

Mankind is Sunkind And rules by the light; Nightlings are Moonkind, And rule in the night; Or there will be war. Humans and nightlings are never to meet, but when Genna and her brother Dan venture into the old forest at night, they encounter a nightling who reveals a terrifying secret: Genna and Dan's village chieftain has made a deadly deal with Letrin, ruler of the nightlings, and offered up the lives of his villagers. To save their people, Genna and Dan strike their own bargain with the nightling lord, but the stakes climb even higher. Now, the siblings must embark upon a journey along the moonroads, and bring back the key to Letrin's downfall. Written in haunting, lyrical prose, Holly Lisle transports readers to the twilit realms of the night worlds.